Recruitment does not begin by posting a job offer on a website or hiring a consultant to meet your need. It starts way before it and the very beginning is the definition of the employer branding strategy.
Successful employer brands have figured on breaking away from an HR mindset to a consumer mindset when we try to get the best and the brightest in the organisation. If we have learnt one thing very strongly in the pandemic, is the need to be empathetic and to adopt a 'humane-first' approach in our thought process and actions. This shift needs to extend not only to our employees but to any stakeholder who is interfacing with our brand – customers, job aspirants, delivery partners, vendors.  With hybrid work and virtual interviews being the only way, the way we interact with candidates cultivating trust and building relationships has become more challenging than ever before. How do you make good talent take a chance on your organisation by forging online connections?
A lack of priority in delivering candidate experience leads to several issues with serious consequences, including the inability to get the desired skillset onboard and thus the inability to achieve business objectives leading to a vicious cycle of poor organization reputation online and higher recruiting costs. Can we lay our foundation on these 4 simple yet impactful tenants while designing our candidate experiences?
The Four tenets of Candidate Experience 101 which make or break your Employer Brand: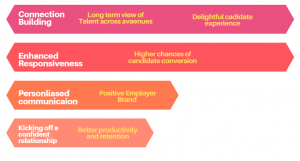 Connection Building
Sourcing talent with high in-demand skills is a complex and competitive process. The paths of connection to getting good people onboard are numerous. High performing organizations understand the importance of navigating these paths by widening their recruitment pools.  Talent is now simply everywhere and traditional channels of finding candidates may not work. Organizations must be on the lookout to creatively develop ways to recruit, engage and communicate with different talent groups throughout the year. We are in a unique position, one has the chance to connect for a single position or cultivate a relationship that opens the door for other opportunities available at the company, today or in the future.
Enhanced Responsiveness
AI and digital tools have been extremely helpful in providing a top-notch communication experience at various stages of hiring. Being responsive is the key to building effective candidate relationships.
The difference between good brands and great brands is how well and how frequently you responded to someone who is willing to join you. "Be known for being responsive" is the guide to the ultimate Employer Branding strategy.
Personalised Communication 
Constant communication is easy personalised communication is tough and preferable.
In a world of automated templates and responses, it would take much more than an email to connect and build trust. Personalized communications do matter. While tech is important, candidates still want to connect with a live person. With high volumes of candidate profiles on your doorstep each day, this is a tricky one to solve.
Kicking off the relationship on the right note
Organizations have multiple opportunities to help new employees to fit into their context. Apart from providing a consistent onboarding experience for the first few weeks, high-performing talent organizations also focus on providing the 'human touch. A sense of community helps in providing much-needed support. Early introductions to management, peers, cross-functional teams and leadership send the message that the new employee is much valued and leads to long-term engagement.
The first phase of a greatly perceived employer brand begins much before when a new hire comes on board. It is not just the ability to connect the right talent with the right opportunity, but also how to set up the employee for success in the immediate future.
Together, the human touch and an early connection with the opportunity will all determine an organization's ability to attract and retain the people it needs to grow and succeed.
About the author: 
Rabeen Singh heads the Human Resource Function of TATA Advanced Systems Ltd, the leading private sector company in the Defence & Aerospace sector.
Singh has led various key HR leadership roles in Tata Teleservices such as Business HR Leader for multiple Business Units, Head of Performance Management & HR Excellence & Head of Talent Acquisition for New Business, which included trainee scheme, campus relations and employer branding.
Powered by
 Our Employer Branding Partner