Circa 2025, the headline of a leading global newspaper reads "Many Bluechip & Start-up Companies World Over Closed Down Due to Lack of High-Performance Culture"
Achieving high-performance culture is and will be every CEO's, Business and Human Resources leader's utmost strategic priority but at the same time, it is the most taken for granted agenda. In order to achieve sustainable profitable growth, a paradigm shift is needed from Execution-led Plan A (Action) and Risk Management-led Plan B (Back up) to High Performance, Values & Innovation-led Plan C (Culture).
Culture Focused Strategy from Strategy-Driven Culture
Culture eats strategy in all three meals and meals are served by none other than the CEO. This is quoted by me in my recent culture transformation-oriented book titled PLAN C. This is very relevant as an organization is failing primarily because of being highly focused and obsessed with strategy execution and risk management.
Organizations need to build a Plan C to make Culture transformation the core of all strategies and drive organizational growth by having Culture Vision and become an ideal organization by focusing on solving big business problems by addressing the root causes and not symptoms. Build Culture KPIs and review every month to achieve high-performance Culture step by step.
This is going to be very relevant especially when AI, Big Data, Virtual Reality, and Robotics are making the work environment impersonal and the only differentiator between good and great organization will be the creation of a strong culture-based ecosystem that fosters leveraging of strengths of human capital and achieving business transformation through people transformation.
Middle Line Management Principle
 The stereotyping of the typical convention of organization success is topline and bottom-line growth. Topline growth is primarily focused on revenue, sales, market share increase whereas bottom-line growth is driven by profitability before or after-tax, gross net margin or contribution growth. Both the top line and bottom line are the outcomes and results of multiple actions taken by the CEO and management including the execution of strategies and growth plans.
What is missing in all these years of the CEO and Board's obsession with top-line and bottom-line growth is building similar plans and strategies for reinforcing middle line management and growth.
The Middle Line
The middle line is primarily the core of any organisation's growth by design and source of sustainability. The middle line denotes the organization's and CEO's belief, vision and mission, role modelling of value-oriented behaviour, employee engagement and commitment leading to enhanced discretionary performance further translated into a way of working and culture.
If the organization is a body, then metaphorically, the top line is the head, while the bottom line is the heart but most importantly the middle line is the soul and if the soul of a body is high spirited, passionate and driven by the objective of building and leaving a better legacy then the head and heart will be designed to be healthy and consistently high performing.
The approach and principle to consistently nourishing the middle line enablers of the organisation are termed as the Middle Line Management Principle.
The conclusion of my PhD work was also the established between the linkages between independent variables of the middle line elements such as organisational values elements and employee engagement outcomes with top line and bottom line oriented Business Performance Indicators
Plan C as a culture-focused strategy approach basically motivates the organisation's leaders including CEOs, CHROs and CXOs to put C for Culture at the core of the entire organization and business visioning, from thinking to designing, planning to strategizing and executing to reviewing. In nutshell, one needs not to drive business KPIs and targets but culture to achieve high performance on a sustainable basis.
Therefore, Plan C is an approach, leadership thinking and management mindset to focus and leverage on building, nurturing and leveraging the culture of the organization to achieve the desired outcomes and results. Plan C is much more impactful, profound and strategic than Plan A (Action-orientation for immediate and visible outcomes and results) and Plan B (Backup Orientation for risk management/mitigation)
In order to leverage the Plan C framework (as Illustrated in the below diagram), the focus is to go step by step in terms of doing the Culture benchmarking exercise to understand the current level of culture and keeping in view the culture growth plan, articulate the Culture Vision. In line with Culture Vision, prepare the blueprint of culture design for implementing the objectives of Culture Vision.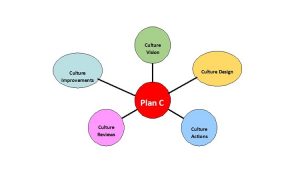 Accordingly, culture design needed to be broken down into SMART culture actions with measurable Key Performance Indicators. These Culture Actions and KPIs should be measured on a monthly, quarterly and half-yearly basis to ensure that there is a direct linkage and impact of achievement of Culture KPIs on business performance indicators and in achieving the desired outcomes across different types of setups whether start-ups, small scale enterprise, medium-scale enterprise, government bodies and organisations, multinationals or large conglomerates. Culture Improvement initiatives are to bridge the gap between what was envisaged in the culture design stage and the outcome of culture reviews. This will ensure that the Culture Vision is continually and consistently reinforced for sustainable business growth.
About the author
​​​​​​​
Dr Sanjeev Dixit is a global HR Leader and Ideapreneur with over 2 decades of Strategic Corporate HR & CHRO experience across diversified industries and geographies.
He is also the author of the book 'PLAN C' which is a hands-on and experience-based framework on achieving business transformation through culture focused strategy.