Freshwork got listed on NSDAQ, Zomato got Subscribed 38 times as per business standard, many companies are in queue for listing and many companies are on the expansion plan. This clearly indicates the hiring rebound and the latest LinkedIn Report confirmed hiring in India is around 65% above compare to July 2019 levels. This is a piece of good news for the job applicants and therefore, it's time now to gear up for you next interview.
Some of the non-negotiable interview questions that we all face include:
Why should we hire you?
What do you know about this company?
Why do you consider yourself suitable for this role?
What preparation you did for this interview?
What value addition you can bring on the table?
And many more similar questions, confusing every candidate and inevitable for them to crack the Interview.
Let me share with you the best practice as mentioned in my book "Interview Mantra" and which I encapsulated with my two decades of Talent Acquisition Career working for Fortune 500 Companies and Recruited Ten thousand plus candidates.
Let's Decode the answer by dividing into four parts, Genesis (The Reason), Expectation (The Reality), General Practice, My best practice suggestion, and one real-life example.
Genesis – The hiring manager would like to know primarily whether you are a cultural fit or not. The technical manager, on the other hand, would love to have someone who is skilled and who is also a team player. If someone already knows the culture, then it will be almost certain that they would succeed in the familiar environment.
Expectation– The interviewer would expect you to check through primary research and secondary research, so that you can be a potential culture fit. There was this candidate who was a sales manager but would still apply for engineering roles because of his B. Tech Degree. Does this case not seem absurd?
General Practice– Candidates want to join organizations when they need a job. But, none would survive for long, or be able to be productive, in a hostile environment. Career planning requires us to be aware of our own fitment before we apply for a position. If we fail here even once, making a comeback becomes very difficult, if not impossible.
Best Practice– I suggest a 321 approach to this problem. Spend 3 minutes on Wikipedia as most relevant information is mentioned in it. The products, turnover, services, and the people involved can be derived through this search.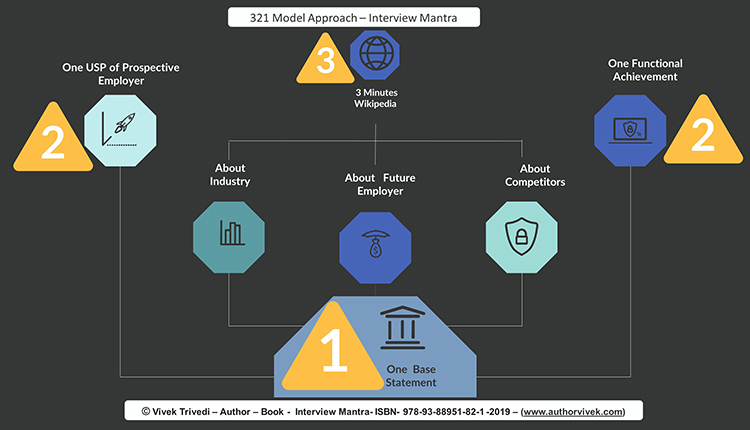 3- Minutes on Wikipedia
2- Observation from Website
1- Statement prepared on your own by combining primary and secondary data available
I suggested just three minutes on Wikipedia because spending more time on Wikipedia may distract your thought process (due to many hyperlinks) and you may end up in some crossroads and get deviated from the actual preparation.
Next, spend a few minutes on the company website and note at least two important points related to your field and understand the same in a better way to explain to the interviewer when you are asked this question.
Lastly, you need to prepare a statement of your own by combining the primary and secondary data that you collected from the public domain. For example, any finance manager can mention the increase in turnover, earning per share, and /or EBITA growth, etc. by looking at the balance sheet of the company.
Also, you can combine your past experience with the current opportunity and create the pitch for your own achievement on various social media or websites like moneycontrol.com. The achievement could be a turnaround or an award received for achievement in the chosen field.
For instance, I am good at product development from an early age and have participated in many new launches in several science exhibitions. As I learned from my friends, social media, and the website that this company is known for its unique innovations, I think it is the right organization for me to showcase my skills.
Wrapping it up,
Utmost care should be taken while joining a new organization. The finances, culture, products of the company as well as our own experiences and capabilities in dealing with similar challenges are to be considered thoroughly before we make a decision. While answering this question, we need to convince the hiring manager of our due diligence, by researching the organization portfolio beforehand.
Interview Masterclass Register Now
For Registration & More Details, go through the Link :https://bit.ly/3zQjo8z
"A positive attitude can really make dreams come true – it did for me" David Bailey
About the Author
Vivek Trivedi is the author of Three Books – Interview Mantra, Interviewer Mantra, and Resume Mantra. He is a Global Interview Coach and Entrepreneur. He has trained more than 10 thousand plus people IITs, IIMs, and Fortune 500 Companies. He is the recipient of several awards including an award from the Government of India and the World HRD congress.